Simple Meals: No Recipe Required
FEBRUARY 22, 2022 / KELLI NAPOTNIK /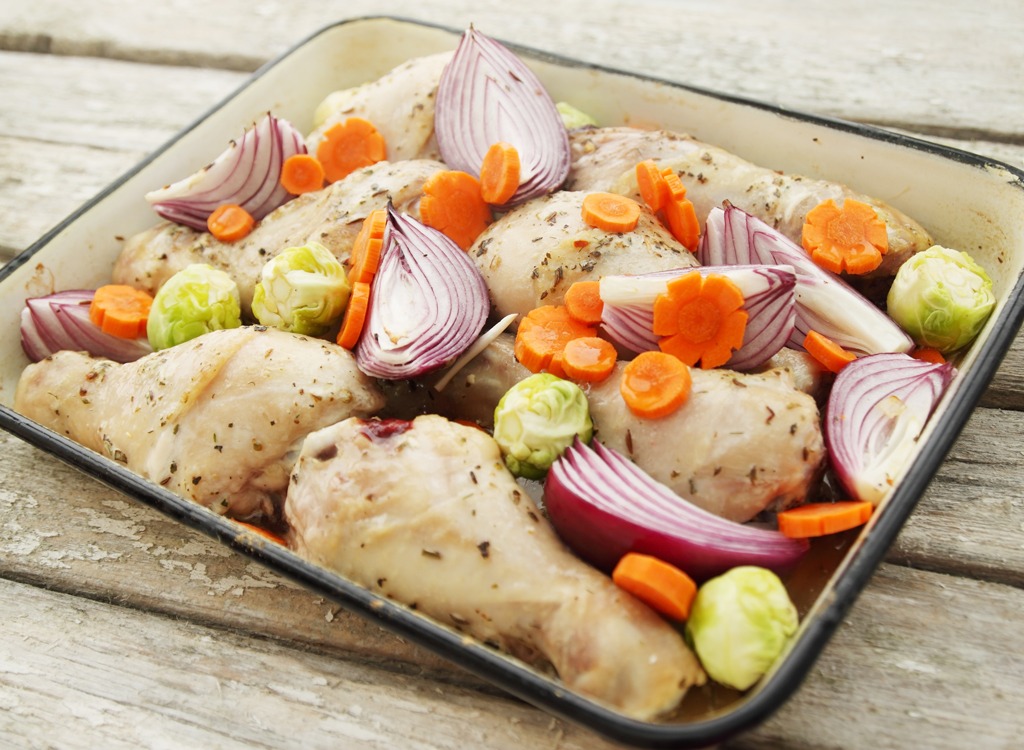 I love sharing recipes that are our family favorites. Especially when I use them often and they don't require a lot of thought or effort. When planning our weekly menu, I add items to my shopping list based on a recipe. But there are times where dinner is just kind of thrown together, can you relate? Meals don't need to take a back burner. Here are three simple meal ideas that don't require a recipe.
Taco Salad
One of the easiest meals to make without a recipe is good old-fashioned taco salad! With seasoned ground turkey or beef, you can add as many toppings as you like. Our favorites are black beans, homemade guacamole, chopped romaine, tortilla chips, cheese, salsa and sour cream. Chopped cilantro or green onions add a delicious zest to it, as well as a sprinkle of lime juice! There are so many options for this one. Taco salad is easily one of my most frequently used meals not requiring a recipe. This meal comes together in 20 minutes and is absolutely one of our favorites.
One Pan Chicken and Vegetables
Another great meal idea that requires no recipe is a pan of roasted chicken and vegetables! Season your chicken and toss in a casserole pan with your favorite root vegetables and celery. Serve as is or with a side of rice or salad and dinner is served! If you're looking for inspiration, I love this
Chicken and Veggie Pan Roast
idea from Eat This, Not That.
Old Fashioned Chicken Soup
I would definitely say that this meal idea is good for the soul. Mostly because there is nothing more simple than boiling a chicken, then later adding celery, onion, carrots and parsley for a classic bowl of healing chicken soup. I don't use a recipe for this anymore because I've made it so many times. Do you have any recipes you've memorized like this? I will share the ingredients with you here just in case you would like them. Serve with crackers or fresh baked bread. It's so delicious.
You will need:
1 whole chicken (we use organic)
1 bag of baby carrots, chopped
1 onion, chopped
1 bag of frozen peas
1 head of italian flat leafed parsley, chopped and diced.
1 stalk of celery, chopped. I even chop in the leaves
Salt and pepper to taste.
Directions:
Fill a stock pot with water until the chicken is just covered. Cover and gently boil for 45-50 minutes. (You'll know it's done when the meat falls off the bone).
Remove chicken and set aside to cool for picking later.
Add chopped vegetables, peas and parsley.
Simmer for 20 minutes in the same water you boiled the chicken in.
Pick meat from chicken once it's cooled and add to the pot.
Season with salt and pepper to your liking.
I hope these meal ideas will inspire you to keep things simple! Do you have any simple meal ideas to share? There is nothing I appreciate more than getting dinner on the table in a timely manner without much thought required. Especially when the whole family is pleased.
Read other recent articles by Kelli Napotnik:



Adina & Maureen
Welcome! We're thrilled you stopped by. Our own joys and sorrows have taught us that a well-timed meal delivered by a friend is one of the best gifts imaginable. In this space, we share our favorite recipes to take to friends, meal-taking tips, and other ways to care for those who are dear to you.
Helpful Posts
Recent Posts...
Visit TakeThemAMeal.com's profile on Pinterest.