Carolina Hot Pot (view other recipes)
Pin It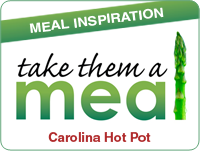 Submitted by Brenda Williams, Nashville, TN
Place frozen chicken in crock pot. Add tomatoes, beans and corn, including juice. Stir in ranch dressing mix and chili powder. Cook on low for at least 4 hours. Shred chicken and return to crock pot. Serve in bowls with a squeeze of lime, shredded cheese, sour cream and tortilla chips.

I usually add a green salad and dessert.  This is always a hit!

Learn More
how it all began
contact us
Recent Blog Posts...